Description
A comfortable thermostatic shower system that's built to last – precision engineered by GROHE!
The impressive GROHE Euphoria 260 shower system with thermostat adds instant designer style and showering enjoyment to any modern bathroom. Packed with GROHE's cutting edge technology, top performance is guaranteed. Set your desired temperature with GROHE TurboStat and the water will stay just how you like it even if the supply fluctuates. The easy-to-use GROHE SafeStop feature limits the water temperature to a maximum of 38˚C – great for giving children independence in the bathroom – but can be raised for adults. The AquaDimmer lets you effortlessly control the volume of water while also directing the flow of water between the head and hand shower, which has a 1750mm TwistFree hose. GROHE DreamSpray ensures the flow of water from every nozzle is even.The 260mm head shower comes with three distinctive spray zones. Jet Spray is powerful and focused, perfect for washing out shampoo and an invigorating head or neck massage.The SmartRain Spray is wider for an energizing yet relaxing experience and Rain Spray uses all the nozzles on the generous spray plate for full body coverage and a truly soothing shower. To choose the spray you want all you have to do is turn the button in the centre of the spray head. And the 450mm shower arm even swivels through 180° for added flexibility. The 110mm hand shower also has three sprays: the soft Rain, the water-saving SmartRain and the powerful Massage Spray. The handy silicone SpeedClean nozzles means the showers are easy to keep free of dirt and limescale! The multilayered coating of scratch resistant GROHE StarLight chrome has a sparkle that lasts for years and the Inner WaterGuide prevents the surface of the shower from getting hot. The GROHE Euphoria 260 shower system – showering perfection and comfort!
Set water temperature instantly and reliably with GROHE TurboStat
No more sudden temperature changes. With GROHE TurboStat thermostat technology, set your desired temperature then enjoy perfect comfort knowing your water won't suddenly heat up or go cold no matter how the supply fluctuates.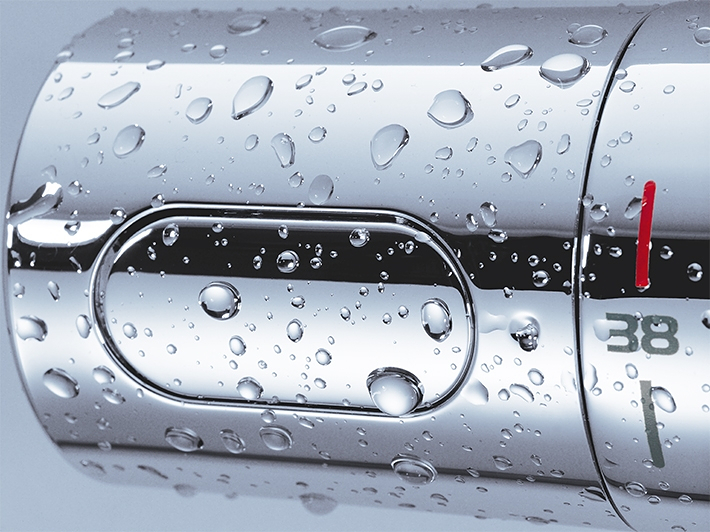 GROHE SafeStop (Plus) – scalding protection at 38°C and (optional) 43°C
Great for homes with children, this safety feature is set at 38°C, preventing you from turning up the water temperature too high. If desired, higher temperatures can be selected by pushing the button. Optional for additional safety: the easy-to-fit GROHE SafeStop Plus limiter ensures that the temperature does not exceed 43°C.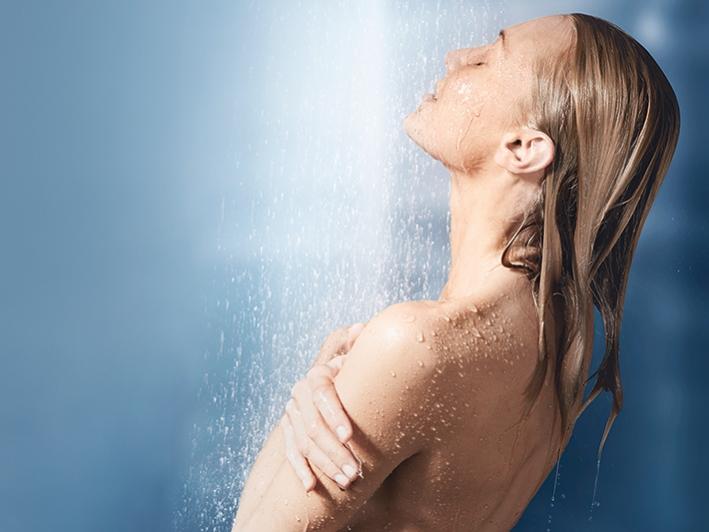 GROHE DreamSpray delivers showering luxury for every spray pattern
Enhance your showering with the GROHE DreamSpray technology. DreamSpray ensures the flow from every nozzle has a perfectly balanced flow, whatever spray pattern you choose, so that your shower experience is completely comfortable and enjoyable.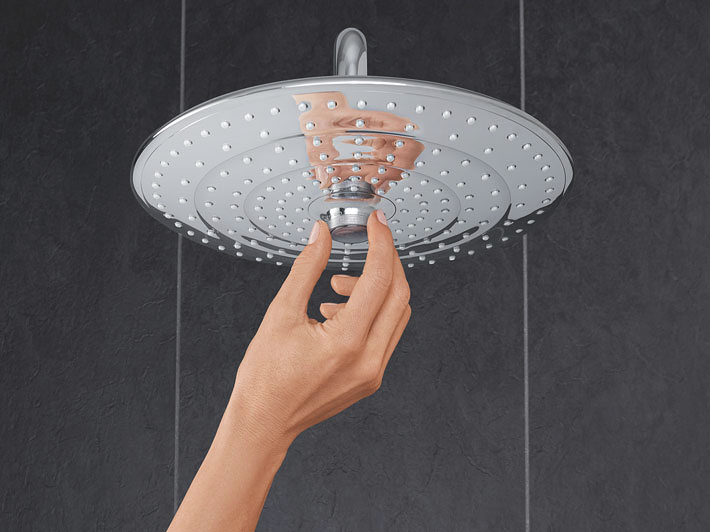 Three complementary spray zones for relaxation and revitalisation
Simply turn the ergonomic button in the centre of the spray plate to select the spray zone that perfectly matches your mood. The powerful and focused Jet Spray is ideal for an invigorating head massage or washing out shampoo; the SmartRain Spray is wider for a revitalising yet relaxing shower; and the all enveloping Rain Spray uses all the nozzles on the impressive 260mm spray plate for full body coverage and a truly soothing experience.
Enjoy a gentle showering experience with Rain Spray
Relax under the delicate Rain Spray pattern. Let the soft sensation of summer rain on your skin soothe away stress and tension to leave you revitalised in every way. GROHE's Rain Spray brings the natural enjoyment of water into any bathroom.
Enjoy the luxury of a SmartRain Spray – use less water
Indulge your senses while saving water with GROHE's reduced flow-rate spray option. SmartRain Spray is a showering experience like no other – imagine the feeling of refreshing, gentle summer rain, while knowing that the soft water flow is reducing water consumption, preserving the planet's precious resources. Combine bathroom luxury with eco-conscious performance when you shower.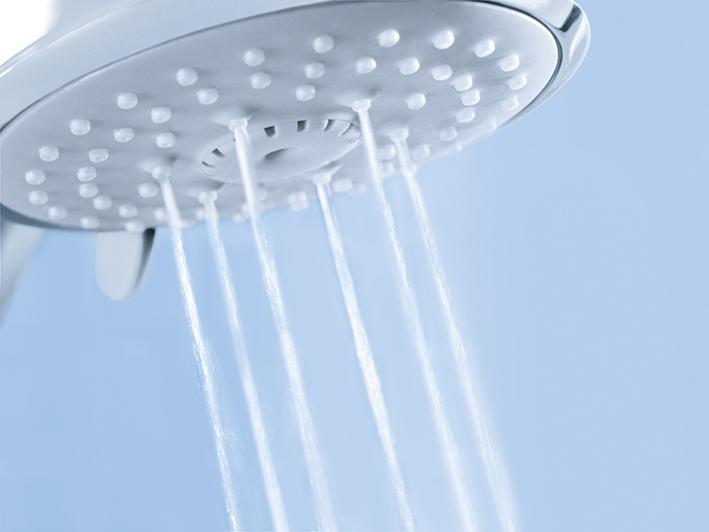 Jet Spray – leaves you invigorated and your bathtub sparkling
Refreshing shower plus powerful cleaning action. A Jet Spray shower is an instant burst of energy. The strong centred stream can be directed at any tense or knotted muscles to soothe away aches and leave skin deeply clean and revitalised. After your shower Jet Spray's power can be applied to thoroughly cleaning the tub or shower stall.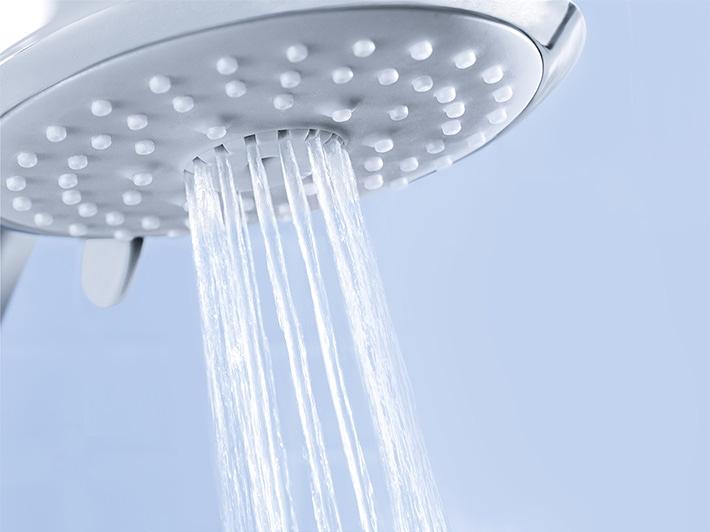 Ease neck and shoulder tension with our gently pulsing Massage Spray
Experience a super-invigorating shower with GROHE's Massage Spray setting. For a luxurious showering experience, GROHE's Massage Spray setting adjusts the water flow to pulsate rhythmically, easing away tension from your head, neck and shoulders. Perfect first thing – or to send you off to sleep.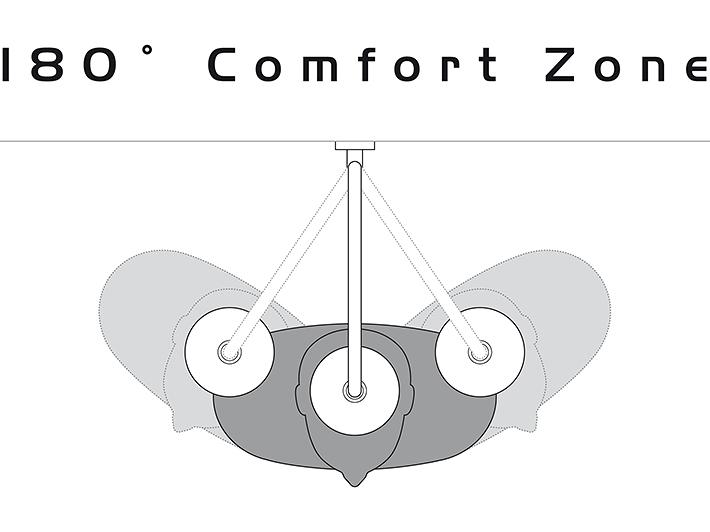 Comfort Zone shower arm swivels 180˚
Increase your showering comfort and flexibility with Comfort Zone. Thanks to Comfort Zone's half-circle swivel action you can enjoy your shower where you want it in your tub or cubicle, even if your plumbing is offset, due to the shower arm's extra large radius.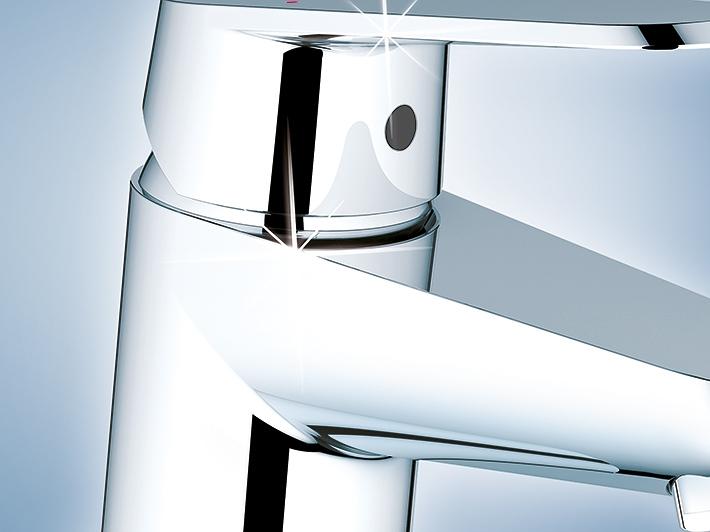 High shine chrome coating makes cleaning easy
GROHE Starlight chrome coating on taps means you can just wipe them down with a dry cloth – no marks, no streaks, no water spots. The ultra-bright surface is scratch-resistant so will keep its original lustre with minimal maintenance.
Control water flow with a single lever
Control flow easily between bath and shower head or hand and head shower. GROHE AquaDimmer's simple single-lever action lets you effortlessly direct the water where you want while simultaneously setting the volume – all from a single lever.
Spray dimmer for luxurious but conservation-conscious showering
Reduce the water consumption of your shower by up to 40% with our spray dimmer. This continuously variable feature allows you to reduce the water flow rate in the SmartRain spray mode of your GROHE shower head – without compromising on your showering comfort. Enjoy a luxurious showering experience and a conservation-conscious life style with GROHE.
Avoid limescale build up in your shower head with SpeedClean
Easy cleaning in double-quick time. Say goodbye to limescale with this integrated anti-limescale system. Flexible silicone nozzles in the shower head let you wipe off limescale with just your hand, so there's no chance for it to build up and reduce your shower's function.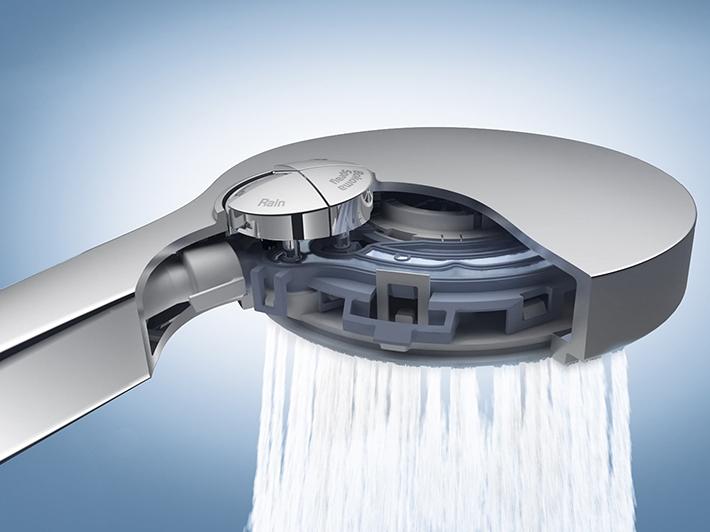 Super-insulated water guide channels heat away from surfaces
The Inner WaterGuide protects you and your chrome surfaces. Internal insulation means the shower surface won't get too hot to touch. This also protects the brilliant finish meaning the looks of your super-safe shower will last even longer.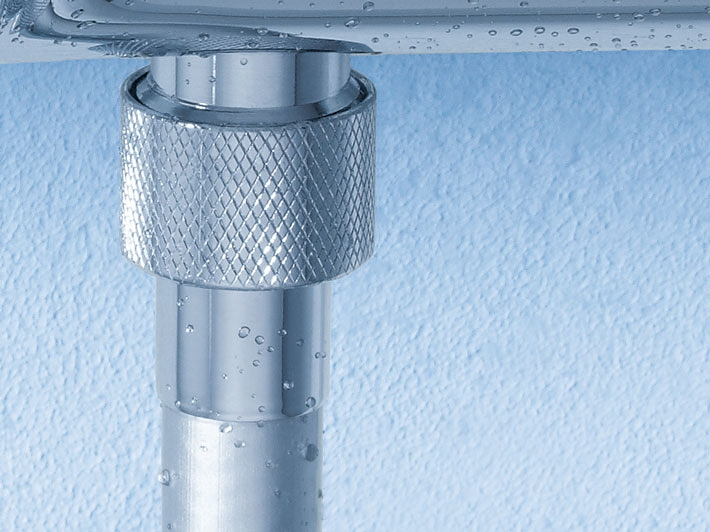 No more knots with the TwistFree shower hose
Don't waste precious morning time untying your shower hose. The TwistFree flexible shower hose makes that frustrating experience a thing of the past. The flexible hose always keeps its shape making it easy to use and maintain.